Journal Articles

For more early voting research, visit EVIC's project site
a complete list can be found on gronke's cv
Books & Chapters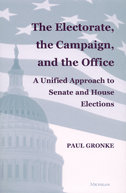 Trust in Government and in Social Institutions


With James Hicks and Timothy Cook. In Understanding Public Opinion, eds. Norrander and Wilcox. 2009.

From Ballot Box to Mail Box: Early Voting and Turnout


With Eva Galanes-Rosenbaum and Peter Miller. In Democracy in the States: Experiments in Elections Reform, eds. Cain, Tolbert, and Donovan. 2008.

The Electorate, the Campaign, and the Office: Settings, Campaigns, Institutions, and the Vote: A Unified Approach to House and Senate Elections


Ann Arbor, MI: University of Michigan Press. 2000.
Working Papers & Presentations