---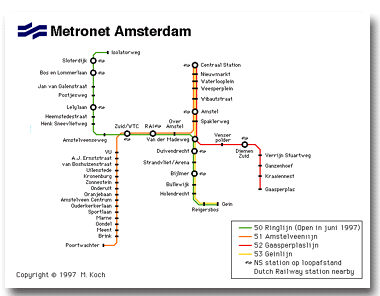 Subway Page
Most people view subway maps as practical navigational aids. But try looking at them the way Robert E. Reynolds does -- as pleasurable means of journeying through the world's great cities. To the physics professor at Reed College, it seems, they're almost works of art.
People who enjoy the images as much as he does, or who seek a subway map for a city they plan to visit, can find them on the Subway Page. The World-Wide Web page provides up-to-date subway maps for more than 90 cities, from Amsterdam to Yokohama. The site also has links to pictures of subway stations around the world, to home pages for transit systems and transportation museums, and to related resources, such as The New Electric Railway Journal, a quarterly publication that offers updates on line.
The page is the creation of Dr. Reynolds, who collects subway maps as a hobby. He says that the site is "just for fun" and that he built it as "a way of learning more about how to use the Web tools."
Since bringing his hobby on line, he's discovered a kind of subculture of subway enthusiasts. They send him e-mail that alerts him when new maps or other subway information becomes available on line.
"I have a long-term fondness for maps in general," he says. "I think it has something to do with their schematic nature." Why subway maps? Part of the fascination, he says, is "the pleasure of being able to find your way around underground."
--Jeffrey R. Young
---
Title: Subway Page
Contact: reyn@reed.edu
Entered on: 02/19/97
Copyright (c) 1996 by The Chronicle of Higher Education. Posted with permission. This article may not be published, reposted, or redistributed without express permission from The Chronicle. To obtain such permission, please send a message to permission@chronicle.com. For subscription information, send a message to more-today@chronicle.com.
The following links are left for authenticity; they won't respond! -- RER