Above (left): John Haviland standing by a tzitz tree in Chiapas, Mexico;
(right) Isabel Haviland and her dad on her 16th birthday.
My name is John Haviland. I am emeritus professor of Linguistics and Anthropology at Reed College, and currently Professor of Anthropology at UCSD . (For a more recent update see my UCSD homepage.) My work concentrates on Tzotzil (Mayan) speaking peasant cornfarmers from Zinacantán, Chiapas, Mexico, and on speakers of Guugu Yimithirr (Paman), especially at the Hopevale Aboriginal Community, near Cooktown, in northern Queensland, Australia. I have recently been engaged in a multimedia study of the coordination of gesture, gaze, and speech (supported by a KDI initiative grant from the National Science Foundation), and in the creation of the Archivo de los Idiomas Indígenas de Chiapas, at CIESAS-Sureste, with support from CONACyT (México). (An out of date version of this page is available at the CIESAS-Sureste Home Page, and the connection may be slow.)
If you will permit me, I should like to recommend my recent book, published in 1998: Old Man Fog and the Last Aborigines of Barrow Point, with the late Roger Hart, illustrated the late by the late Tulo Gordon. The book describes the traditions and demise of Roger Hart's people, the original inhabitants of the area around Barrow Point in Far North Queensland, Australia. The book was published in the U.S.A. by the Smithsonian Institution Press, in a paperback edition in Australia by Crawford House Publishers, and in a German edition by Frederking & Thaler. All royalties from sales of the book go to Roger Hart's family, and to the family of the illustrator, the late Tulo Gordon of Hopevale, North Queensland, Australia. The book was launched at the Queensland Museum in Brisbane, August 1999.
The following link gives a bibliography of some of my publications, including links to some machine-readable versions of several papers.
Additionally here is an electronic publication you may be interested in consulting:
An English translation (by Reed graduate Stuart Robinson) of my Tzotzil pedagogical grammar (originally published in Spanish, as Sk'op Sotz'leb: El Tzotzil de San Lorenzo Zinacantán by the UNAM). The HTML tagging was done by Reed graduate Esteban Gutiérrez. The translation is undergoing revision, so you may wish to re-check the site from time to time. The original Spanish version is available on the abovementioned website of the Archivo de los idiomas indigenas de Chiapas.)
There is also a somewhat propaganda-filled article about some of my work published in Reed magazine. My e-mail address is: johnh@reed.edu.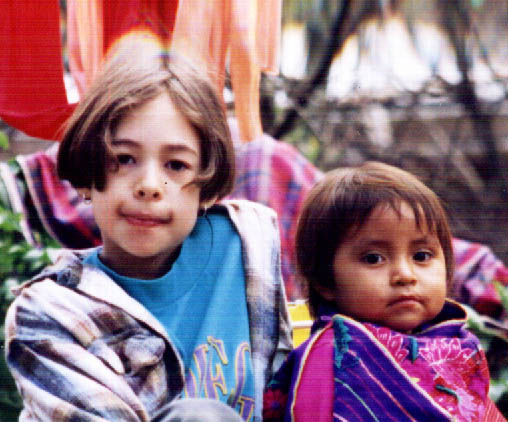 Isabel Haviland with her godsister Mal, Nabenchauk, Zinacantán, Chiapas, ca. 1994