Angélica M. Osorno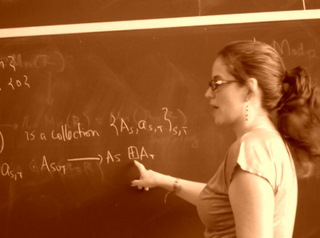 ---
Assistant Professor
Department of Mathematics
Reed College
Office: L305
Email: aosorno at reed dot edu

---
I am on sabbatical leave during the 2016-2017 academic year. I am being partially supported by the Career Enhancement Fellowship from the Woodrow Wilson Foundation.

I do research in algebraic topology. I am particularly interested in higher category theory and its connections with higher K-theory. In 2010, I got my PhD at MIT with Mark Behrens. From 2010 to 2013, I was a postdoc at the University of Chicago working with Peter May.

Kyle Ormsby and I are organizing a conference on Equivariant and Motivic Homotopy Theory at Reed College, May 30-31,2015.
---
Teaching
---
Research Papers
---
Other publications
---
Some links:
CV
Reed College Math Department
Reed Conference on Equivariant and Motivic Homotopy Theory
UofC Math Department
UofC Topology Seminar
MIT Math Department
MIT Topology Seminar
MIT Babytop Seminar